Filter by Category
History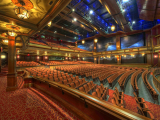 First Nights: Five musical premieres
with Angela Lickiss Aleo

Next available session starts Jan 15, 2024 at 7 pm

, runs for 5 weeks
Have you ever wondered what it was like to be at the premiere of some of the most influential musical works? In this class we will take a deeper look at five musical works and premiers that impacted the direction music would take for years to come. We will discuss the historical context and culture around these premiers and look at primary and secondary sources to give a broader understanding of the environment that these works came from. 
Orfeo by Claudio Monteverdi
Messiah by Georg Frederic Handel 
Symphony No 9 by Ludwig van Beethoven
Symphonie fantastique by Hector Berlioz
Le sacre du printemps by Igor Stravinsky
This class will meet Monday from 7:00-8:00 pm online only running January 15 - February 12, 2024.